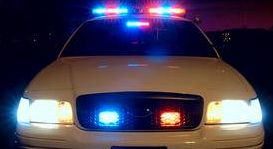 You probably expect some moaning here about a bad experience with Wisconsin highway police, but although I've been driving through Wisconsin at least four to six times per year for over a decade whenever I visit my sister in Minnesota, I have no complaints whatsoever.
It was the night of December 21/22 and I was on my way from Chicago to Minnesota after a Christmas party at work, so I started late and had to beat the snowstorm that was coming our way.  I didn't drink because I had to drive, but I still got sleepy around midnight, so I stopped at a rest area somewhere in Wisconsin, took a nap, slept for about an hour or two and continued my way. It was very late/early, and it was a section of the road where I never see any troopers, there were barely any cars on the road and I had a pocket rocket car, so I decided to push the envelope to try to beat the storm and enjoy the speed.  I was driving in three digit speed ranges and slowing down to about 80-ish whenever I had to pass a lonely car or two on the otherwise empty road, just to avoid freaking them out.  On one of those occasions, as I was approaching two cars, I have just slowed down to pass them at a decent speed when I noticed a car in the rear view mirror approaching me from behind at a much higher speed, so I decided to slow down a bit more to get into the granny lane and let Mario Andretti do a flyby, but then he slowed down and went into my lane, the disco lights turned on and I realized I was getting pulled over by a state trooper – it was me he was after, and I had a bad feeling about it.
– Good morning.
– Good morning.
– The reason I stopped you was your excessive speed.  Is there any particular reason why you were driving so fast?
– Well, I'm traveling to my sister's for Christmas and I'm trying to get there before the snowstorm; there's barely anybody on the road, so I stepped on it.
He asked for my drivers' license, I told him it was in my jacket, he told me to go for it and I did it nice and slowly, avoiding any sudden moves. He took it, went back to his car and I thought I was getting a half a grand ticket for sure. However, when he came back he said:
– I am going to issue you a warning which you will have to sign. You have to slow down. If we catch you going above the speed limit again down the road, you will receive a ticket.
– Thank you sir!
Wow, sweet mother of cheeseheads, I was ecstatic – I felt like I had just won the lottery.  Just being told to slow down to a normal speed instead of paying $500 and getting a smudge on my driving record was a great deal. I thought the ticket was inevitable, but it apparently was my lucky night, perhaps because I was aware of my surroundings, slowing down and moving aside while he was approaching from behind, also being really respectful and careful with hands on the wheel, slow moves and very cooperative. But it took me several hours more to realize what kind of lottery I've won and how much The Guy Upstairs or Lady Luck was on my side that night.
I continued at 65 mph, thinking it was going to be a horribly boring and long drive, but that was still much cheaper than paying for sure if they catch me again. I know, the probability of such a thing at 3 a.m. was extremely low, but since I just got very lucky, I didn't want to push my luck. Light snow started in half an hour and watching the snow dust wiggle behind the cars in front of me, every now and then I felt a slight wobbling of my car, but I thought it was the side wind. Some time later I noticed I had less than half tank of gas, which is the lowest you should go in the winter especially when it's snowing, so I decided to stop and refuel at the next exit, and that's when it happened. As I was approaching the exit, I touched the brakes and suddenly I heard the characteristic ABS grinding sound, the car started sliding, and every second seemed like a minute as I was turning the wheel right and left and trying to keep the car on the road. Somehow I managed to slow down and regain control and just as I was about to get off down the exit lane, I saw a semi and some cars in a ditch further ahead where the highway was winding a bit with some emergency vehicles already on the spot. Next came the stop sign at the side road – I pressed the brake but it was like nothing happened – I could hear the ABS grinding sound again, but oh my horror, the car wasn't stopping and it continued sliding like a boat, passing the stop sign and sliding into the middle of the intersection – black ice! When you get onto that, no ABS and electronic stability control can help you. However, I was lucky again because nobody else was passing there at the time. I continued to the gas station at average speed of 5 mph and didn't dare to get back on the highway after that, terrified of getting rear-ended by some other speeder so I used an alternate route and stayed on it for another 20-30 miles at a snail speed while the roads were as glazed and completely covered by black ice. It seems like it had rained while the ground was frozen and the water turned into this friction-free frozen glass-like surface which is good only for skating. I've never seen anything like this before or after (and I hope and pray never to experience it again).
It was only after that ice-glazed road when I got back on the highway and my adrenaline went down close to normal that it dawned on me – had Mr. Foster not stopped me and given me a warning, I would have reached that spot at 100 mph or more, and would have ended around that same ditch, possibly hitting or getting hit by some other vehicles. He saved my vacation, saved my car, possibly saved my life, and perhaps someone else's too. That Christmas I was very thoughtful and I had many people and things to be grateful for.
In life we often don't get a chance to return the favor. It's been ten years since this event and I've always wanted to send a thank you note but I didn't know the address. However, I have a blog now and I just found the faded old warning from 2001 in one of my old boxes, so I decided to share my story here. Maybe someday he will read this and know how grateful I am for something he probably didn't even realize he did on that cold night before Christmas.  He slowed me down, so I can live.  I'm married with kids now, I drive a mini van, I try to practice safe driving all the time and don't go into those crazy speeds. Never had a single accident, missing a possible big one thanks to Mr. Foster, or was that Clarence trying to get his wings?
Info on the warning slip:
Trooper/Inspector: J. T. Foster WSP# 2338
December 22, 2001 @ 2:54 a.m. i-94 Westbound
Wisconsin, County: Monroe
City/Village/Town: Grant
Thank you!