Arctic Sound S111 Ultra Portable Speaker System is a surprising exception to the unwritten rule that small speakers with good sound are always expensive. I discovered them while searching for something cheap and small but decent to improve my laptop's can-like sound. Since I often watch online videos and occasionally (now more frequently) listen to the music while working on the computer, I wanted a complete stereo experience with my FHD monitor instead of getting the sound from the laptop dock.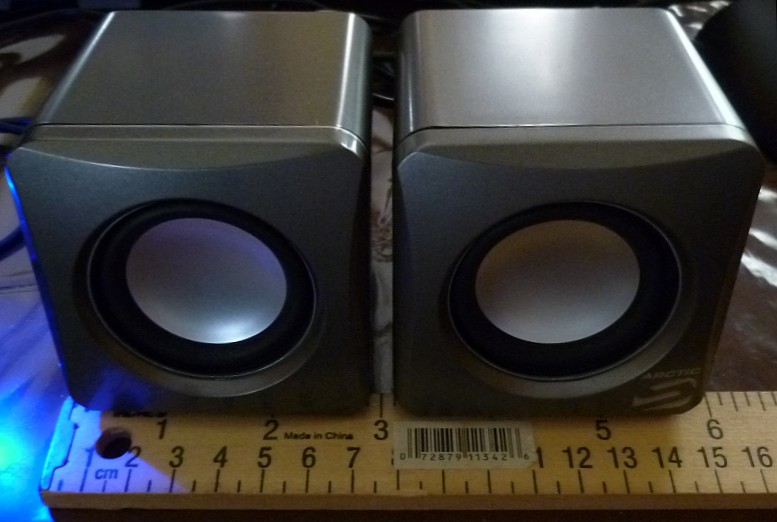 I already own two much bigger and more powerful sets of 2.1 speakers (satellites with a sub-woofer), one for my taste too thumpy THX-certified Logitech z-2300 which does an excellent job of an amp for my digital piano, and the less powerful, but also great sounding set of Eagletech ET-AR504LR-BK, initially bought for my office, but now connected to our bedroom TV set. This time I wanted a much smaller, affordable and portable 2.0 (without sub-woofer) speaker system, so when I embarked on a research on Amazon.com, I was surprised to see this little set maxed out at five stars in most user reviews.
Power
Arctic Sound S111 Ultra Portable Speaker System can't shake your windows and rattle your walls, but it sounds much louder and better than the best sounding laptops I've ever heard. The speakers do a great job aside my monitor, where their stereo effect and sound quality outperforms most monitors and small TVs with built-in speakers. I am glad that they have no external power adapter because of too many cables around my desktop station, and although I wondered whether this set can work well without its own power supply, my doubts were gone once I received it. I haven't tested this, but since this system draws power from a USB port, it will shorten a laptop's battery time. I use these speakers mostly with the docked laptop, although with USB chargers being available almost everywhere, you could think of alternative ways of use.
Cables
Each of the two directly wired USB (power) and 3.5 mm (audio) cables coming out of the right speaker is 40″ (one meter) long, so if your computer is far under the desk and on the left, you'll need to either move it to the right or buy a different speaker system. The cable coming out of the left speaker plugs into the RCA connector on the right unit and it's only a connector length shorter so in the unlikely case you need to place the speakers more than one yard apart you will need an extension RCA cable (female to male). The 3.5mm audio jack plugs into your computer or phone's headphones plug, while the system gets its power through the USB cable pluged either into a computer or any USB charger. The left speaker cable with white RCA connector is the only one that fits into the right speaker's connector, so the only mistake you can make when plugging in the cables is if you plug the audio in cable into the microphone instead of the headphones jack on the computer. I sometimes also connect my phone or tablet to these speakers and since the USB cable is connected to a USB hub with an external power adapter, the computer doesn't need to be on for them to work.
Volume
One user review on Amazon was complaining about low volume but these are louder than I expected and have a surprising amount of bass for such a small set. They definitely sound better than a regular LCD monitor or smaller LCD TV speakers.
Performance
They shine most when I don't crank them up but leave them to act as my personal audio wall, barely audible to others in the house – on lower levels their sound reminds me of much more expensive small monitor speakers I've seen some studios use during remix to check how the song sounds on lower volume levels. At these levels this set provides amazing sound definition with lucid clarity and presence. Of course, these speakers miss the real deep and warm bass tones of lower ranges which are too powerful on my Logitech Z-2300 and almost overly abundant on my Eagletech mentioned above, but can you really expect a thumpy bass from a 2″ all-in-one speaker?
Summary
As I stated in my Amazon review of these speakers, if I ever need something similar, I won't hesitate a bit to get another set of Arctic Sound S111 Ultra Portable Speaker System. They provide an amazingly rich sound quality on lower to medium volume levels and they can be loud if needed. Fully above and beyond (and much below, bass-wise) my expectations, this was the best $15 I've ever spent on any audio equipment.