When Amazon Appstore for Android appeared last year, it was a nice refreshment with good interface, less chaotic apps market and a different free app every day. Through its promotions I downloaded some great and expensive apps for free (OfficeSuite Pro, Weatherbug Elite, PAC-MAN…), but there was also a downside: the store app maintains a list of all the Android apps you ever installed (and deleted) and it keeps bugging you to install and update all of them. I got fed up with this "feature" and had I not recently discovered how to permanently remove the unwanted apps from the list, I would have uninstalled the Amazon's appstore app from all of my Android devices.
I waited this long only because I'm very accustomed to their site and services (I'm also their ex affiliate, only because their affiliate program was terminated for Illinois residents) and I'm also using their MP3 store as my default Android music cloud storage and player. But every patience has a limit and just when I was ready to kick them to the curb, one last chance research on the internet found the way to get rid of the unwanted deleted apps as shown below.
The procedure is still tricky, and it seems to me it still can't be done from within the Amazon Appstore app on Android devices, but only on a computer or in a browser session. Here's how to permanently delete the unwanted apps from showing on your Android device's Amazon Appstore apps and updates:
1. Login to Amazon.com
2. Go to "My Account"
3. Go to "Digital Content" / "Your Apps and Devices"
4. For each app you want removed forever, hit the "Actions" drop-down button on the far right and select "Delete this app" and it won't bug you any more.
To better see how this looks you can click on my screen capture below to enlarge it and follow the blue arrows for deletion procedure: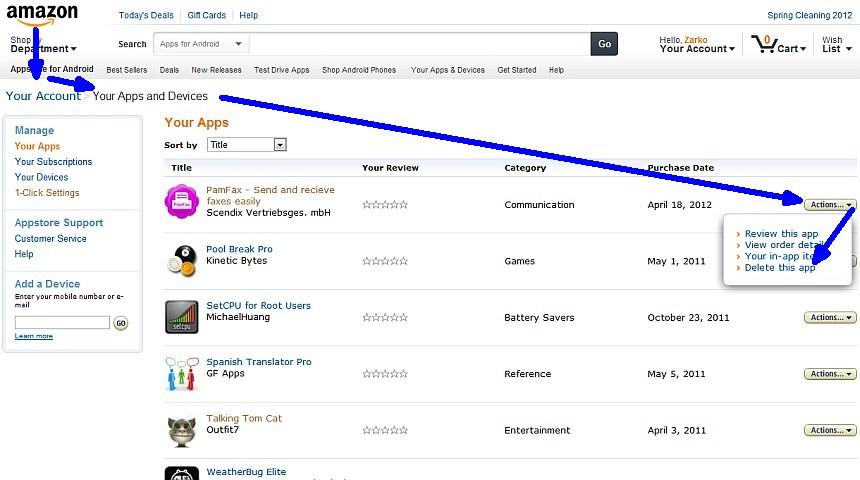 At last… this time they really tested my patience. Was that so hard, Amazon?!