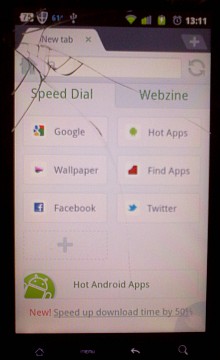 UPDATE: I have a new post describing DIY installation of the new HTC EVO 4G touchscreen.

The digitizer (touch screen) glass on my HTC EVO 4G shattered few days ago and I ordered parts to replace it myself. In the further text I will list the parts that I selected and ordered. How did it happen? A smartphone might survive a stargazing fall from above your eye level only if you first step onto the grass. I missed that step.
Few days ago the stars (actually the planets) on the sky were displaying a great show with Venus and Jupiter very close to each other, setting on the west and full Moon and Mars rising on the east, so I went outside, took out my HTC EVO 4G and fired up the wonderful Google Sky Map app, comparing the other stars on the sky to the GPS position/accelerometer/compass-sensitive map on the screen. I rose the phone above my eyes, panning across the sky and just when it was in the highest position almost 7 feet (2 meters) above the ground, it somehow slipped from my hands. Just like in slow motion, I watched it remain in same screen-down position, land on the sidewalk with a thump and then the battery and the back cover flew apart, but the phone remained where it fell. I knew this time things were not going to be as painless as many times before when this phone fell and flew apart without a scratch, because the concrete sidewalk is not very forgiving for a fall from almost 7 feet, especially when landing on the screen with an extended double-life battery (and double the weight) behind it.
Like many times before, I picked up the pieces, assembled the phone and started it, but even in the dark I was able to feel the cracks on the glass under my fingers.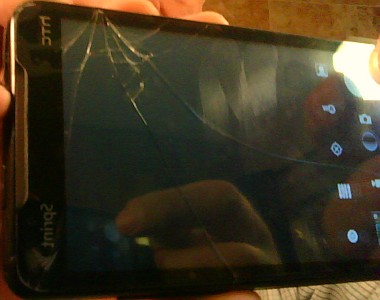 To my amazement, the phone once again booted up without any problems and displayed everything on the screen, so the LCD part is not damaged. Moreover, the digitizer still works even on the cracked parts so the phone is fully functional. Its looks are not, and I'm afraid that the LCD may get damaged if I keep it in this state.
The first thing I did was to get the screen protector that I received with the extended battery and after first cleaning the screen I attached it so that the shattered glass is held in place until I replace it.
Then I went looking into online ads for repair and it seems that in or around Chicago this may cost me about $60 or more on a good day if I go with a Craigslist ad, but then I searched on Amazon.com and it appears that the necessary spare parts are affordable and easily available together with tools needed to replace the glass. I wouldn't be me if I let this get repaired by someone else, so I'll do it on my own when the parts arrive.
The fact that this has been done before by many people makes me quite confident and if you're technical it shouldn't be a big problem. There are YouTube videos that show how to do it, so once I receive the ordered parts I'll proceed and post my results here. Here are the parts that I chose and ordered:
1. Touch Screen Digitizer Front Glass for Sprint HTC EVO 4G 4 G EVO 4G A9292 Supersonic ~ Repair Parts Replacement – has best reviews out of all available EVO digitizers sold on Amazon. I paid $15.86 together with shipping ($10.84 without shipping)
2. 2Mm 3M Adhesive Sticker Tape LCD Screen/ Digitizer Sticker For HTC 4G Evo Supersonic, Incredible, HD2 T8585, Desire, Hero, Legend, Diamond 2 – I first selected another seller with much lower price but when I got to finalizing the order and shipping, it was going to take four (4) weeks (?!) to receive this cheap adhesive sticker tape and I definitely don't want to wait that long.
I paid $6.94.
3. 8pc T6 T5 iPhone pentalobe, cross Opener Screwdriver Tool Kit for Opening BlackBerry Phones PDA MP3 Palm Treo Pocket PC Laptop iPhone (all series) Blackberry universal cell phone repair tool (HEAVY DUTY) – this was one of numerous tools offered. I'm not sure whether it's perfect for I checked and it works for the HTC EVO 4G (use T5 torx scredriver except for one small phillips screw inside the phone) and it seems versatile and compatible with so many different phones, so I believe it was worth paying just a bit more for it.
I paid $6.99 together with shipping ($1.99 without)