After I recently helped a family member select it, I configured and played with the most affordable Samsung Series 3, 15.6″ matte LED screen equipped laptop, a new addition to the Samsung's series of anti-glare laptops I first saw several months ago. This model is definitely not the cream of the crop, but at $379 at Best Buy it's neither your standard slow netbook – for that price it has great specs with light weight, decent performance and battery life and I can't make any complaints about my experience on it.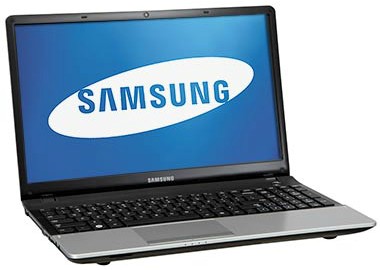 All the time during the setup I had a feeling like I'm in front of a much more luxurious laptop, mostly because of its nice non-glossy screen finish. Apple charges over $100 extra to add a finish like this to a 15″ MacBook Pro that would cost you over $1,500 and yet we get it with no additional cost in this budget laptop.
This screen is also a stumbling block for some users, but if you're like me you prefer this to glossy screens which work well only in dark environments while in bright surroundings the reflections become a major distraction. Some consumers just believe all the glitters is gold and prefer the crystal clear glossy trash. For me this is perfect and far more upscale.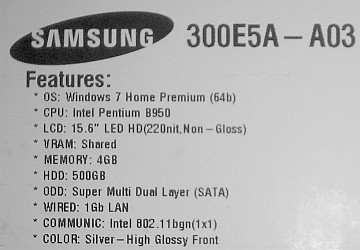 Specs:
– Intel Pentium B950 2.1 GHz CPU with 2 MB L3 cache (Lowest end of Intel's top of the line CPU Sandy Bridge Technology)
– 4 GB RAM upgradeable to 8 GB
– DVD reader/writer
– 15.6″ LED 1366×768 screen
– 500 GB Hard disk
– 3 USB 2.0 ports, HDMI and VGA video signal output, Gigabit Ethernet port
– 802.11 b/g/n WiFi (not a)
– 5.1 lbs
– 5 hours battery life
– Windows 7 Home Premium 64-bit OS
– media reader (SD scard)
– 0.3 Megapixel webcam (640×480 resolution)
Pros:
– Matte screen, usually only available on expensive models
– Much faster with much bigger and better screen than similarly priced netbooks
– Decent battery life for a lower end home laptop
– Hefty sized Hard disk (half terabyte)
– Good amount of RAM memory
– Low weight – 5.1 lbs is very nice for a chunky 15.6″ lower end machine
– Reasonably good sound quality
– Good quality touchpad and keyboard
– No messy fingerprint-magnet surfaces
– My overall subjective feeling was very positive
Cons:
– Although the Pentium B950 processor is latest Sandy Bridge Technology, it doesn't have hyper-threading, which means only 2 core processing at a time (dual core CPUs with hyper-threading act as 4 virtual cores). However, those two cores running simultaneously still make it a good candidate for simple tasks like email, Facebook, Skype chat, browsing the net, watching videos or word processing.
– Without a discrete video card, this system has one integrated with the CPU, so forget about any higher end 3D action gaming on it. However, it still has enough power to run HD videos and anything short of video editing very well.
– Only 0.3 Megapixel (VGA size) webcam – not great, but it's still sufficient for a decent Skype session at 640×480 resolution. If the internet speed is not high enough between you and your Skype partner, Skype will sometimes go below this resolution so this is enough for a decent, non-hd video ( standard definition TV has the same 480 resolution). Also, in case of a slow connection this non-HD webcam actually saves bandwidth and processing power and makes a video chat smoother.
– I saw a number of reviews by end users who experienced some kind of a failure and returned the laptop, but we didn't have any problems whatsoever. Could have been a bad batch.
Performance Comparison
I compared this machine to two other similar computers at my fingertips, one being my much more expensive first generation Core i3 2.27 GHz (Arrandale) CPU Toshiba Portege r705 (quad threads) and the other being a similar 2.133 GHz dual core dual thread Pentium Lenovo B560-433028U only with a bit older Arrandale technology CPU. The keyboard on the Lenovo rocks, but I'd say Sammy's is in the middle; better than the fragile keyboard on the ultra-light Toshiba. The speakers on both were better than on the Toshiba. Speed for usual Windows actions on this Sammy was not noticeably faster or slower than the Toshiba, but its advantage over the older dual core Pentium in the Lenovo was obvious. Of course, the Samsung's matte screen leaves the other two in the dust, at least for those of us who appreciate our eyes more than shiny and glittery objects.
Here are the Windows Experience Index numbers for Samsung NP300E5A-A03US Series 3 Laptop with Intel Pentium B950 CPU (the other two are here only as a reference)
Windows Experience Index Numbers for
Samsung NP300E5A-A03, Toshiba Portege r705-P25, Lenovo B560-433028U, (in that order):
CPU: 5.9, 6.3, 5.8
RAM: 5.9, 5.9, 5.5
Graphics: 4.6, 4.2, 4.0
Gaming Graphics: 5.7, 4.9, 5.1
Hard Disk: 5.8, 5.7, 5.9
These results can be a bit misleading if you want to run a number of demanding applications simultaneously, where my Toshiba's Core i3 dual core, quad thread processor will have no problems while the dual core, dual thread Pentium processors of the Samsung and Lenovo models compared will struggle.
Summary
Both Windows Experience Index comparison and my feel of the NP300E5A-A03 Samsung Series 3 Laptop is not bad at all. I'd say at this price ($379 special at Best Buy – currently much cheaper than on Amazon.com) it's worth considering it as a very affordable home laptop. Its screen impresses me most, followed by the keyboard and touchpad, and light but compact and powerful enough feeling for simple everyday computing. Stay away if you intend to do video editing or advanced gaming.