UPDATE: The mobile theme has been disabled.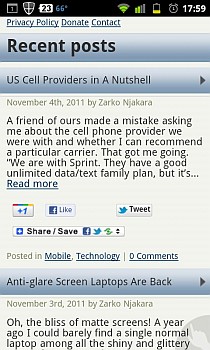 When I started this blog I wanted to have all the bells and whistles of the future. One of those things was a mobile theme – as you probably know, more smartphones than computers get sold worldwide every day, so I thought I had to be mobile-friendly. I installed a Nokia style BAAP Mobile Version WordPress theme, but I notice that only few users are using its view.
The mobile switcher will automatically show this site in mobile view whenever it detects a mobile OS/browser. If a user selects the alternative view (link at the very bottom left of each page), the site remembers their choice as long as the browser cookies remain on the device. But since I often delete my browser cache, session settings, passwords and history, whenever I go back to read something from this site on my smartphone or tablet, I have to switch to my preferred desktop view.
This makes me wonder whether some or most of my visitors accessing this site on mobile browsers might have the same issue and if so, maybe I should get rid of the mobile theme. Although it is nice to have convenient features like this, this may be an inconvenience to other users. I also believe this blog is better off in desktop view mode because I usually keep graphics to a minimum so pages load fast enough and display well even on older smartphones.
This is why I am now asking for your feedback – it only takes one mouse click! If there are no people who really need the mobile theme, I'll gladly get rid of it. To toggle the mobile/desktop view you can use the desktop/mobile switch link at the very bottom left of each page. Please see the poll below and help decide the current destiny of the mobile theme.

UPDATE: The poll is now closed.
[polldaddy poll=6036375]
Thanks!
UPDATE: Since nobody voted for the mobile theme I disabled it.