(Illustrations by Ana Petri)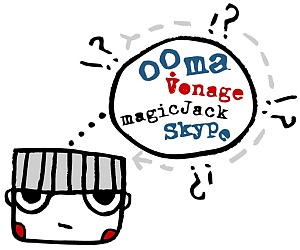 It's been a long time since I've canceled my last land line. Meanwhile I tried Vonage, Skype, Ooma and magicJack internet telephony and found all of them to be quite feasible VOIP phone solutions, but things keep getting better. Not only had I been using Vonage at home in the USA for years, but I also kept using it when traveling abroad and it worked so well overseas (with a good Internet connection) that I left one adapter with my parents and bought another subscription and adapter for home so we can call each other's US phone number without incurring any international or long distance charges from wherever we are.
Using Internet Telephone Overseas
Vonage worked great but it required a monthly subscription that made it quite pricier than using Ooma which I discovered later, about two years ago. Ooma requires a bigger initial investment but my boxes paid themselves off and keep saving me nice amounts of money. Out of all solutions that I tried, Ooma works, looks and feels best, like an engineering marvel, very "Apple-ish", but not overpriced. It also has best reviews. This worked so well that I got rid of both Vonage adapters and then bought another Ooma Telo box to a family member in another country so we can all call each other virtually for free. I pay some miniscule monthly tax charges but I save a lot on my international long distance calls, while they get free calls to me and to each other, which is a huge win-win-win.
The number of my international calls has thus decreased and since I have a great mobile phone with free calls throughout the USA, I even got rid of my internet home phone. If I ever call any long distance international from my cell phone, I use prepaid Google Voice to further lower my cost and also to seamlessly forward my incoming calls to the ooma box when I'm abroad (if you are more interested about this, also see my post Using Google Voice Overseas).
Skype works great and I also use it regularly but both you and the person you want to call need a computer, and moreover both have to be on at the time when one wants to initiate a connection. There are some more complex solutions with Skype WiFi phones, but I haven't tried them and my focus here is on my own experience.
MagicJack USB plugin phone adapter is another option that required a computer until recently with MagicJack Plus, but I haven't used it yet and I see that the opinions in reviews are mixed. I tried the older magicJack with another relative overseas a few years ago, but it was cumbersome because I never knew when they were online so it was only convenient for them to call me. The new version has an ethernet port so you can connect the network cable and USB charger to it and keep it running, able to receive and make phone calls without a computer.
UPDATE: Based on the comment posted below, my search on Google resulted in a significant number of recent complaints of unauthorized charges by Magic Jack. Maybe they are having a problem with their financial system, but until these are settled I'd stay away.
Here is the cost breakdown, with approximated prices which may be a dollar or few off, but that doesn't make one cheaper than the other so I'm purposely not going into my monthly bills to check the exact cost to the penny. I've done the comparison before and based my course of action on it and it saved me money. I've also just recently analyzed it again for yet another family member what gave me an idea to write this post. As always, you should check it yourself before making your selection.
Cost Breakdown for Vonage, Ooma and Skype
(All prices are approximations based on my past charges. No guarantees.)
Prerequisites:
– All options require high speed internet connection with constant good quality.
– Both Vonage and Ooma require that you have an US address.
– Skype requires a computer (and can do video calls with a webcam, but that would be comparing apples to oranges).
Ooma Cost
Initial investment: $200 (Ooma Telo device)
Monthly charges: less than $5 (taxes)
First year: $260 (device + 12 monthly tax bills)
Two years: $320 (device + 24 monthly tax bills)
Three years = $380 (you get the idea, 36…)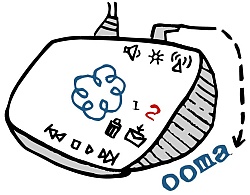 Vonage Cost
Initial investment: $0 (the phone adapter is usually free)
Monthly charges: $26 monthly + taxes = around $30
First year: $360
Two years: $720
Three years: $1080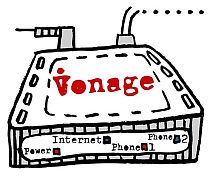 MagicJack Plus Cost
Initial investment: about $70 (as priced at Amazon.com with free super saver shipping)
Annual charges: about $30 (after first free year)
First year: $70
Two years: $112
Three years: $142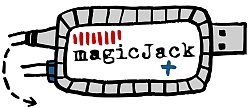 Skype Cost
Initial investment: a laptop with microphone and speakers ($350-$1,500) but if you and the people you call already own them, the cost is $0. Another huge advantage if you have a webcam are free video calls.
First year: $0
Two years: $0
Three years: $0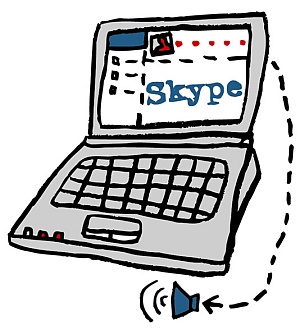 Summary
Skype is free but it requires computers and it's not as convenient, especially for people who are either older or not technically inclined. UPDATE: Magic Jack Plus has too many complaints for my taste. My vote currently goes to Ooma as does my money, because my experience with it is almost flawless and better than with Vonage and definitely better than with Skype or magicJack. However, if you need to call long distance international numbers from these boxes, you should look up the prices for your own target countries on each provider. In that case also have in mind that Vonage has free calls to about 60-ish countries and it may become your best bet. Other than that, in my research the international rates of these VOIP (internet) phone providers looked pretty close and only Google Voice looked just a notch better, but for that you need a working mobile phone with data service what may be cost prohibitive abroad.
I invite anybody who tried more options or had different experiences to share them in the comments section.
– – – – – – – – – – – – – –
If you find these notes helpful, tip me with a dollar or few using the "Tip Me" link on top.