Several months ago my Toshiba Portege r705 laptop started exhibiting most frustrating random crashes with blue screen of death (BSOD) BUGCODE_USB_DRIVER error reports and reboots at least once a day, sometimes seemingly caused by a physical move of the laptop, and sometimes straight out of nowhere with no particular reason.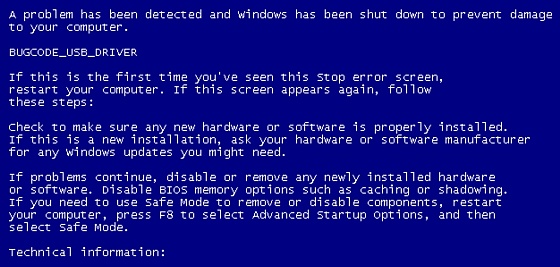 Another frustrating component was that these crashes kept happening regardless whether I had anything connected to a USB port or not. Sometimes the laptop would come up from sleep mode rebooted with the same familiar after-crash message. This was terribly affecting my productivity, not to mention my trust in my "chief of staff" gadget.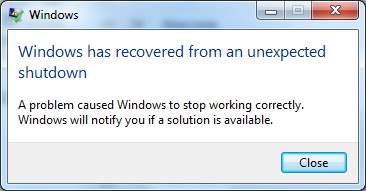 At first I believed this problem was related to a SD card reader because at first it seemed more frequent with a card in it, but that later showed to be irrelevant. I kept searching knowledge bases and researching online support forums to no satisfactory answer. To me it seemed that because there were no USB connections it must have been a software error, so at one point I used System Restore to eliminate everything I installed on this laptop before these crashes began. That didn't fix it either.
Now, few months before these crashes started I noticed that my webcam wasn't always available in Skype, but I attributed that to a software problem as well.
Finally a few weeks ago I went into BIOS and disabled every built-in device option available including both SD card reader and the webcam and that's when these crashes miraculously and fully disappeared. Later I enabled the SD card reader to see whether the reboots will resume, but the system has run rock steady for weeks without a single crash with only webcam disabled. After this I enabled the camera just to confirm my assumption and sure enough, the crashes started happening again. Now that I know that the built-in webcam is the cause of my troubles I'm keeping it disabled.

I wish I reported these webcam problems to Toshiba this Fall while the laptop was still under warranty, but I hesitated because of my mistaken belief it was a software problem. Techies sometimes work against their own interest. I know from my online research that there are more Toshiba Portege laptops with similar webcam problems where the camera works in certain laptop screen inclination (position) and doesn't work when you move the lid back or forth a bit and that actually gave me the idea to disable the webcam. Something must be very wrong with the way this camera connects to the motherboard through the laptop hinges.
In any case I wanted to share this, hoping it might help somebody else out there with a similar problem. I'm looking for a video tutorial how to replace this sorry excuse for a webcam, which is one of the weakest links on this laptop, so if you find one let me know.
– – – – – – – – – – – – – –
I accept tips. If you find these notes helpful give me a dollar or few using the "Tip Me" link on top.