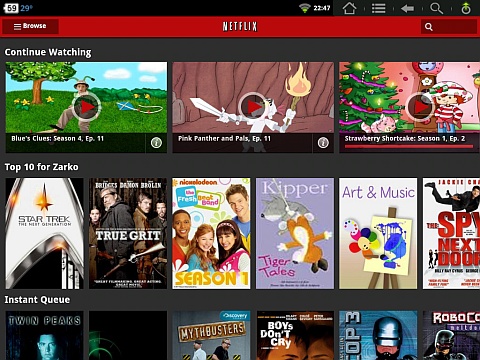 I see a number of visitors searching for apps to watch Netflix videos on the HP TouchPad. I have some bad and good news, so let's start with the bad: currently there are no native Netflix or any other webOS apps for viewing Netflix shows on the TouchPad like you can do on most modern Android or IOS (Apple) tablets or phones. The Netflix-related apps in HP app store can only be used to manage your Netflix queues, order and rearrange movies.
The good news is that there are some workarounds. I will not focus on the first solution used by some, because it requires a $10 app to remotely connect to a PC in a cumbersome setup that needs the PC to be up and ready, the app to be working perfectly, without lag and with perfect audio and video synchronization, and it needs an impeccable connection of a sufficient speed whenever you want to watch a Netflix show or a movie on your HP TouchPad.
Netflix on The TouchPad Is Definitely Possible
However, there's a great solution for technically inclined users – install the free CyanogenMod 7.1 Alpha 3.5 port of Android 2.3.7 on the TouchPad. Once you have this version running you can download the native and free Netflix app from the Android market store and enjoy movies just like any Android tablet user, provided that you are a Netflix subscriber. Furthermore, my experience with Android OS on the TouchPad is better than with its native webOS and I keep my TouchPad running Android most of the time. Lower in this text you can find links to installation instructions showing how to install CyanogenMod.
Dual Boot TouchPad- No Netflix in webOS and No Skype Video in Android
The good thing about installing Android CyanogenMod OS on your HP TouchPad is that this installation still preserves your webOS and your data and introduces a dual-boot mode, so you can always reboot into either Android or webOS. I use both because the TouchPad's camera still doesn't work in Skype in Android like it does in webOS, so I reboot to webOS for Skype video chats with friends and family.
Stay Clear of CyanogenMod 9 on TouchPad for Now
One thing to remember is that if you want to watch Netflix videos on your TouchPad you definitely don't want the latest version of CyanogenMod for HP TouchPad (CyanogenMod 9 Alpha 0.5 with Android 4.0), because it is still in a very early stage of development without video acceleration and the Netflix app doesn't work on it. Until further notice, stick to CyanogenMod 7.1 Alpha 3.5 for HP TouchPad.
How To Install CyanogenMod 7.1 Alpha 3.5 on HP TouchPad
There is a number of links for TouchPad Android installation out there on the internet and I'm listing the best two in here. The first one is the extremely in-depth and newbies should try to it first at
[Release][Alpha3.5]Cyanogenmod 7.1 for Touchpad on RootzWiki.com.
However, if you want to save some time, or if you find yourself pulling your hair trying to understand all that information you can instead revert to the more concise instructions how to install CyanogenMod 7.1 Alpha 3.5 on HP TouchPad from liliputing.com.
Of course, although many thousands of users are already running Android on HP TouchPad, if you decide to pursue this solution you will proceed at your own risk. Whatever you do, stay clear of the CyanogenMod version 9 for now – it is only for technical enthusiasts who want to get a touch and feel of Android 4.0, but Netflix doesn't work on it, so stick with CM7.1 Alpha 3.5. Good luck.