UPDATE February 1, 2012: After installing CyanogenMod 9 I wrote two new posts on this site about that: one contains a review of my experience with Cyanogenmod 9 and Android Ice Cream Sandwich on the TouchPad, and the other is a note to self with a short list of steps needed to upgrade from CM7.1 Alpha 3.5 to CM9 Alpha 0.6 2. The latter may become obsolete soon because newer updates keep getting released, but I keep updating the former with my impressions all the time.
UPDATE January 14, 2012: CyanogenMod 9 port for HP Touchpad to be released soon. has been released mid January.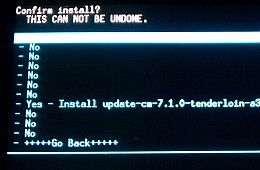 Yet another new version (Alpha 3.5) of the CyanogenMod 7.1 Android OS (2.3.7) port for HP TouchPad has been released on December 14, 2011. The CyanogenMod team keeps consistently releasing at least one new version every month. This version is a minor upgrade, but among other reported fixes (read more at RootzWiki.com) it brings back my Touchpad's smooth and quick performance in games and videos that got choppy and jerky in version Alpha 3. One of the most annoying bugs that still hasn't been fixed is the inability to play YouTube videos in portrait mode (everything still looks perfectly OK in landscape mode).
Here's a quick and dirty set of instructions how to update to version 3.5 from any earlier version. This is mostly a note to self, so proceed at your own risk, only if you know what you're doing and if you already have an earlier version of CyanogenMod installed:
Quickest Upgrade
1. In TouchPad (either webOS or Android) download the Alpha 3.5 version from here:
http://goo-inside.me/roms/cmtouchpad/alpha3.5
Remember the name and location of the downloaded zip file on the TouchPad because you'll need to point to this file in ClockworkMod recovery mode.
(This and future versions will be also available for download from the link to the RootzWiki.com CyanogenMod page given below.)
2. Reboot TouchPad to ClockworkMod Recovery and (optional) back up the system.
3. Select "install zip from sdcard", then "choose zip from sdcard", browse to the downloaded zip file
(in this case update-cm-7.1.0-tenderloin-a3.5-fullofbugs.zip), select it and confirm. Reboot after it's done, run ClockworkMod backup once again (optional) and that's it.
This shouldn't delete anything. It only upgrades the version and fixes some bugs.
For those installing CyanogenMod on their TouchPad for the first time and those who want to read more about this effort there is a quite comprehensive list with detailed instructions, changelogs, links to downloads, description of fixes, instructional videos and more at RootzWiki Alpha 3.5 page.
A more elaborate set of instructions than mine for CyanogenMod Alpha 3.5 Android installation on HP Touchpad, yet more concise than the Rootzwiki's overwhelming tractate from the link above can be found at Liliputing.com. Good luck and enjoy!
If you find these notes helpful, tip me! Give me a dollar or few.
If you're using a CyanogenMod port consider donating to the CyanogenMod team from their website at http://cyanogenmod.com.