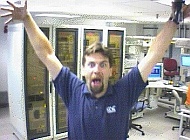 These are the rules I compiled gradually throughout many years of work as an IT network manager and Deputy CIO. I used to send them as a reminder to all my staff at least once a year together with the standard office and computer use policies attached, and I'd give them to the new team members when they were hired.
Phones
Do not turn your mobile phone off except for doctor's visits, religious services and similar reasonable exceptions.
If you are in an area without signal, check your voice mail from another phone frequently.
When having problems with your phone, immediately report it to the phone support team.
If during an emergency you cannot reach the primary support person on their mobile phone, leave a voice mail first, then call the next person on the responsibility matrix.
If your home is in an area with a very weak mobile signal, request a beeper from me.
If your cell phone is forgotten, lost, or broken, obtain a temporary beeper from the phone administrator and email our department (and any other parties you are currently dealing with) with the beeper number.
Your office line voice mail greeting message must include a clause like this: "If this is an emergency please press zero to forward this call to my mobile phone".  If your office phone is not set up for this feature, please contact the phone administrator and have it set up ASAP.
Time Off
Vacation time must be requested in writing at least two weeks in advance and it must be approved in writing by your immediate supervisor (or another if not present).
When leaving for vacation or other scheduled off time you must:
List your time off for every scheduled day in the calendar of events for our department.
Send an email to our department (and any other parties you are currently dealing with) to announce your absence.
Set up an auto reply vacation message from your email.
Change your voice mail greeting to an extended absence greeting during scheduled time off (and during sick time when possible).
Reporting Problems and Outages to Management
We need to communicate well and often.  If more than few users are affected by a problem, immediately notify both your manager AND Help Desk at extension ____.  A system being down is one thing, but the IT management learning it from an external source makes the entire department look bad.
Communication to Help Desk, Other Departments and End Users
It is very important to communicate changes, installations, upgrades, problems and outages to the end users.  Whenever possible, the Help Desk department must be informed and prepared ahead of time about any new deployments or changes, so they know what to expect, whom to contact in case of an emergency, and how to respond to any end user calls. We depend on each other as they represent us and provide precious feedback to us, so it's crucial to keep them informed.
Extra Hours
Working from home is discouraged in our department.  However, because of our group's network and systems support duties we sometimes must work from home during outages, downtime, or after hours.  If you worked from home on an emergency or a project during off hours, send an email to your immediate supervisor and to me about the task and the amount of time worked.
Long Lunch Break or Errand Leave
If you are planning to take a lunch break longer than listed in your work schedule or leave during work hours for an errand, obtain approval from your supervisor and make arrangements to make up for the lost time.  Unannounced disappearance during listed work hours is subject to disciplinary action.
Mess-ups
(Mistakes causing outages, slowdowns, or requiring a lot of work to fix)
If you mess up and try to hide it, this will become a big problem for you later when we find out.  If you mess up and let your management know, we will protect you, unless you keep repeating the same mistake.  Remember, everybody makes mistakes, but only smart people learn from them.  Sharing lessons learned from mistakes is crucial for the efficiency and success of our teams.
Personal Fun Messages
Jokes, goofy videos and links to fun stuff don't belong to company servers. Gmail, Yahoo, Hotmail, Facebook and YouTube accounts are free, so keep the company system and staff records clean.
Conflict Resolution
If you ever find yourself in a conflicting situation with a coworker, user or a customer and if it seems to be getting out of hands, immediately evade further confrontation and escalate the problem to your immediate supervisor who will either address the situation or escalate it further to me.
Computer games 
Do not do this at work! It may result in disciplinary action and termination.
Let me know if you have any questions.
What would you add or take off from this list and why?