EDIT – February 1, 2012: This post is about an older CyanogenMod 7.1 Alpha 3 version for HP TouchPad. Currently the best and most stable CyanogenMod version is 7.1 Alpha 3.5, released mid December 2011. However, things keep developing and improving quickly. After installing a very raw CyanogenMod version 9 released mid January 2012 I wrote two new posts about it on this site: one contains a review of my experience with Cyanogenmod 9 and Android Ice Cream Sandwich on the TouchPad, and the other is a note to self with a short list of steps needed to upgrade from CM7.1 Alpha 3.5 to CM9 Alpha 0.6. The latter may become obsolete very soon because they keep releasing new updates, but I keep updating the former with my impressions. I recommend that regular users stick to version 7.1 Alpha 3.5 until more bugs are fixed on version 9.
EDIT – December 16, 2011 – A newer CyanogenMod Android Alpha 3.5 version for HP Touchpad has been released. I verified that among other reported fixes it fixes my choppy video and Angry Birds performance that occurred in version 3. One still unresolved bug is that YouTube videos still can't be viewed in portrait mode (landscape only). You can read my quick upgrade instructions at my latest post about CyanogenMod Android Alpha version 3.5 for HP TouchPad.
EDIT – December 10, 2011 – I keep kept getting choppy performance in Angry Birds on Alpha 3 version. In previous versions this was perfectly smooth and I verified this by restoring a backup of Alpha 2. After restoring back to the Alpha 3 backup this was OK initially, but after a few games it returns to the same choppiness. This can be possibly affecting other apps (perhaps YouTube where I see some skipping as well, but not as bad), so those of you who were fine with Alpha 2 and need Angry Birds better stay on the older versionupgrade to the newer version. (This issue has been resolved with version 3.5) In any case, I recommend creating a ClockworkMod backup before and after upgrading because it gives you very simple revert options.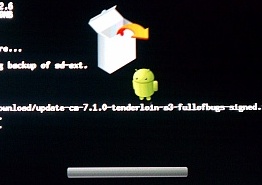 An Alpha 3 version of CyanogenMod Android port for HP Touchpad tablet has been released on November 23, 2011. Although the CyanogenMod team has valid reasons to still call this an alpha version (honesty being the main one, I suppose) with some minor issues still to be addressed, my TouchPad has been running much quicker and smoother even on earlier versions of CyanogenMod and I barely ever use it in its native but slower and cumbersome webOS environment.
I was recently stuck in webOS for a few days after it decided to update itself, before I managed to fix what it broke by reinstalling Moboot and booting into Android again. I can't stand the slowdowns and bad quirks with the YouTube app in webOS any more, and the only feature that I will miss on TouchPad in Android is the keyboard, which is the best I have ever used on any tablet or phone. If someone can port this puppy from webOS to Android, the TouchPad would be a true iPad buster in CyanogenMod.
Those who haven't yet installed Android on their TouchPad can find the full installation documentation with descriptions, warning messages, links to instructional videos and files that need to be downloaded at the RootzWiki.com CyanogenMod Alpha 3 Release for HP Touchpad web page.
A summarized set of the installation instructions can be also found at Liliputing.com in their article How to Install CyanogenMod 7.1 Android Alpha 3 on the HP TouchPad
Here's a yet more concise set for those who are already running CyanogenMod Android on their TouchPad and just upgrading to the new version. Use this only if you are absolutely familiar with the procedure, have done it before, and just prefer to skip reading all the warning paragraphs how you can brick and unbrick your device by and after doing this.
Quick Upgrade
(WARNING: This is mostly my "note to self" set of instructions. Proceed at your own risk!)
1. EDIT December 16, 2011: version 3.5 can be downloaded from http://goo-inside.me/roms/cmtouchpad/alpha3.5
(Older Alpha 3 version on the TouchPad with CyanogenMod Android from this link (or copy from a computer):
http://goo-inside.me/roms/cmtouchpad/alpha3/update-cm-7.1.0-tenderloin-a3-fullofbugs-signed.zip),
or get it from the link to RootzWiki.com Alpha 3 page given above and below, (the download link is buried somewhere at the last quarter of that page). Remember the exact location of the downloaded file on the TouchPad.
2. Reboot TouchPad to ClockworkMod Recovery and (optional) back up the system.
3. Select "install zip from sdcard", then "choose zip from sdcard", browse to the downloaded upgrade file
(in this case update-cm-7.1.0-tenderloin-a3-fullofbugs-signed.zip), select it and confirm. Reboot after it's done and that's it.
This should upgrade the Android OS in a few minutes and it shouldn't wipe the Android settings and apps that are already installed.
For a quite comprehensive list with detailed instructions, changelogs, links to downloads, fixes, instructional videos and more see the RootzWiki Alpha 3 page.