Reinstalling Moboot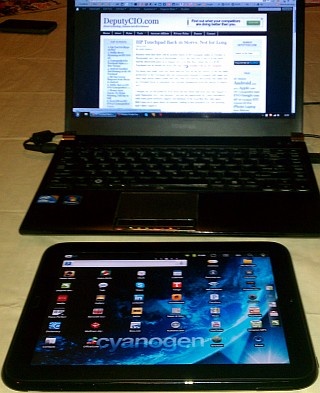 UPDATE – January 30, 2012 – I just had another episode with update 3.0.5, but this time it was much worse than with 3.0.4 and it took me far longer to recover. If you have a "regular" problem where you just can't see Android CyanogenMod and boot to it, continue reading below. Otherwise if you're stuck in an endless reboot cycle, or you just can't boot to either OS, you can read my latest post about how I fixed my TouchPad after a problematic webOS update 3.0.5 knocked it out.
A recent webOS update on HP TouchPad broke the Android boot option and the tablet seems stuck with webOS only. The bad news is that at first it looks like the update entirely wiped Android because this OS is nowhere to be found and seemingly inaccessible, but the good news is that it didn't really delete any Android OS files, apps or settings, and they were all still there. The problem was that the bootloader was gone. To be able to boot Android again, the boot manager Moboot had to be reinstalled on the TouchPad. This is how I fixed this problem:
(Disclaimer: This is a note to self and if you choose to do what I've done, proceed at your own risk.)
IMPORTANT: All of the Android installation files that need to be placed on the Touchpad (as described below) should be left in their zip format. DO NOT unzip them. The only file that must be extracted (unzipped) after download is ACMEInstall (for CM7.x) or ACMEInstall2 (for CM9), but that one goes onto your computer and not on the TouchPad.
1. Have the following files ready:
a. Moboot zip file from http://code.google.com/p/moboot/downloads/list (I downloaded the latest version, but you may already have this from the first installation of CM7 on the TouchPad).
b. Novacom.exe – if the same computer was used for the initial installation of CyanogenMod Android on the TouchPad, this file should already exist (on my computer it's in "C:Program FilesPalm, Inc" folder). Otherwise its installation can be downloaded from step #4 of the following link: http://wiki.rootzwiki.com/index.php/HP_Touchpad
(see one of my comments below how to unzip and install it on your computer)
c. ACMEInstaller (ACMEInstaller2 if you are running CyanogenMod 9)- Just like with Novacom.exe listed above, a computer used to initially install CyanogenMod Android on HP Touchpad should already have this file. If not, it can be downloaded for CyanogenMod 9 from:
http://goo-inside.me/roms/teamdouche/tenderloin/acmeinstaller/ACMEInstaller2
or for Cyanogenmod 7.x from
http://goo-inside.me/roms/cmtouchpad/alpha2/ACMEInstaller.zip.
This is the only file (depending on your CyanogenMod version named either ACMEInstaller2 or ACMEInstaller, no extension) that must be extracted from the zip file. To keep everything simple it's best to place it in the same folder with novacom.exe.
2. Connect the TouchPad to a PC with its USB cable and select the USB Drive option on the "Connected" menu on the TouchPad.
3. From the PC, create a new folder on the TouchPad external drive (usually shown as HP TOUCHPAD), and name it cminstall. Then, unlike during the initial CyanogenMod installation, copy only the Moboot zip file from #1 into the cminstall folder, then close the window and eject the attached TouchPad USB drive from your computer. In Windows you can do this in Start, Computer, right-click the HP TOUCHPAD drive and select Eject.

4. Reboot the TouchPad (Device info, Restart options) while still connected to the PC with the USB cable and press and hold the volume up button while it's booting up. Continue holding the volume rocker in up position until you see the big USB icon in the middle of the screen.
5. On your PC connected to the TouchPad run the command prompt (enter cmd from the Run line) and change directory (folder) to the one containing novacom.exe and ACMEInstaller
6. Enter the corresponding line in the command window and hit enter:
For CyanogenMod 9:
novacom boot mem:// < ACMEInstaller2 or for Cyanogenmod 7.x: novacom boot mem:// < ACMEInstaller 7. If you've installed Android on TouchPad before, the remainder is very similar to the past installation experience. The cursor will disappear for a minute or few while Moboot is being loaded, then the TouchPad will start "rolling eyes" (scrolling installation text messages at a high speed) with familiar Linux Penguins on top. Once everything is done, the old boot menu with Android, webOS, ClockworkMod and other options, should be there again. The Android OS with all the old settings and apps should still be there. Good luck! - - - - - - - - If you find these notes helpful, tip me with a dollar or few using the donate link on top. If you're using a CyanogenMod port consider donating to the CyanogenMod team from their website at http://cyanogenmod.com.