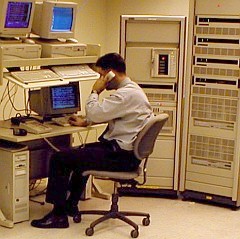 Don't reply to any email asking for your account (login) name and password, even if it's seemingly coming from your company or familiar service provider. No reputable business or support department that cares for your privacy and their legal liability will ever ask you to email them your password.
If you ever receive a message like this, forward it to the IT department or support team of the system in question. If you've already replied with your account credentials because you thought a request like this was legitimate, immediately change your password directly on the system AND inform the technical support department in charge about the possible security breach.
Throughout my career I've seen many messages asking our users to reply with their account name and password to avoid account expiration or suspension, and all of them were criminal phishing and social engineering attempts to get into company systems or to gain access to user's computer(s) and their sensitive information. Not a single legit one.
Fortunately, many years before all these attempts became regular we set the policy that prohibited revealing passwords to anybody, which made it easier to defend from these criminal security attacks. Because of the increasing number of these breach attempts at one point I ordered filtering of all incoming and outgoing email messages containing the word "password", so the ones that made it through our spam filters would automatically go into a security queue to be first reviewed by our trusty email administrators before being deleted or released. They preferred doing this than having to deal with a compromised system.
Email is NOT a secure media, so whenever you have to share some confidential and sensitive information, deliver it in person or over the phone instead. Even if we disregard the usual monitoring of your internet browsing and email activity by your employer (if you don't know about this you've most likely been living under a rock), even a beginner hacker with proper access to a network node on your email message's path to its recipient can sniff what's in it, so it's a good practice to never send any passwords via email.