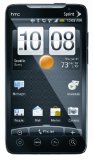 After two iPhone models I finally decided to move on after a long search for the perfect Android phone. Being an open source fan and often talking about it, I had to walk the walk. Even though it's been 6 months since its release, I decided that HTC EVO 4G is still the best one for me. It has everything except being a world phone. Nexus S is not 4G and doesn't show as many improvements as I hoped for, Samsung Epic 4g was close, but didn't cut it because of its weaker speakerphone (compared sound of EVO and Epic at a Sprint stand), lack of FM Radio and voice dialing over Bluetooth (yes, EVO has all that, and more). Motorola Droid 2 has a nice size, but no 4G, no front facing camera and no HDMI. Below you can find my reasoning against iPhone 4 on AT&T and for HTC EVO 4G on Sprint. The list is personal but includes many pros and cons other people wrote about.
Why I moved away from the AT&T/iPhone combo:
– AT&T speeds have been getting very low during the last 6 months all over Chicagoland and I was frequently on Edge or on horribly slow 3G or absolutely useless connection without data available. What good is a smartphone if it only works on WiFi at home or coffee shop?
– Bad speakerphone, both very low volume and poor quality. If you somehow don't mind its super-low volume, just try to switch off the speakerphone during a conversation and ask the person you're talking to if they can describe their relief to you and you'll see what I mean.
– Inability to use the iPhone as an USB drive
– Lack of an out of the box capability to back up contacts to "the cloud' without iTunes
– Inability to replace the battery when it runs out of power, combined with short battery life
– Increased screen resolution at same small screen size. Yes, Retina Display quality shows, but only when you use a magnifying glass – I had two iPhone 4 owners compare it screen-to-screen next to my iPhone 3GS and couldn't persuade me it was really a big deal. One of them disagreed, the other entirely agreed.
– iPhone 4 screen being more prone to cracks and shatters
– No increase above the 32 GB storage capacity limit of iPhone 3GS (I was hoping for 64 GB)
– No FM radio (not even on 4S)
– Outrageous pricing for the Internet tethering
– Proprietary and expensive docks and connectors for syncing to a computer
– Closed approach with locked down phone and applications
– I can't stand iTunes and Bonjour, both being huge resource hogs as stated in one of my previous posts (and I'm tired of nags to install Quicktime and Safari whenever an iTunes update is available)
– AT&T unwilling to unlock the phone for abroad travel (I had to jailbreak and unlock each time I'd go to Europe)
– AT&T tried to screw me many years ago when I was very poor and I couldn't wait to finally ditch them.
Why I chose the Sprint/EVO Combo:
– 3,000,000 HTC EVO phones sold in 2010, and it's still one of the best phones around, even in late 2011.
– Superb speakerphone – this is where HTC EVO outshines Samsung Epic and most other cell phones. I had to update this paragraph because since I received my EVO, my appreciation of its speakerphone has only increased, and it reminds me of some of my past Blackberry or Motorola models that I considered the engineering marvels, particularly speakerphone quality-wise.
– Nice big 4.3″ screen, a con for some but a pro for a tall guy like me, so it feels like a real phone in my hands and on my ear/mouth
– Good Sprint 4G network speed around my Chicago downtown whereabouts as tested during my work evaluation of their Overdrive 4G hotspot device (6 Mbps downloads and PS3 online gaming without any latency issues).
– Free Internet USB tethering (at 4G speeds this is a big deal, so I don't need to include the $30/month WiFi hotspot in my subscription). It seems Sprint had this enabled by mistake in the beginning, which was "fixed" with later firmware/OS updates. However, there are some apps on the Android market that can enable tethering at no charge, but that may be against the contract you signed with Sprint.
– Unlimited data and messaging plan
– Phone can be mounted as a USB drive, hence I don't have to carry a separate flashdrive with me
– Ability to drag and drop music and movie files from and to a computer without installing a resource pig like iTunes
– Constant synchronization of contacts and calendars to "the cloud" (a.k.a. the Internet)
– Seamless integration with my Google account(s), calendar(s) and contacts
– 8 Megapixel photos and front webcam for Skype conversations
– HD Video recording so I can leave my Flip MinoHD camera at home
– Fully functional FM radio receiver, no cellular network connection required.
– Although a battery pig, EVO can get its battery swapped in matter of seconds, and there are $25-30 aftermarket fat batteries with double capacity that give this puppy a nice supply of juice, plus you get to keep the original battery as a spare
– Adobe Flash works out of the box (OK, I'm not crazy about Adobe, but doesn't hurt to have this capability)
– Standard micro USB connector compatible with my existing USB chargers, external battery and many other manufacturers (already a standard for all new mobile phones in Europe) and my wife's new LG Optimus S Android phone
– HDMI out to TV or any other video device (and a bunch of available micro HDMI cables for about $2 or under – if Apple had one I'm sure their price would be over $35)
– Liberation! Easy future migration of data, contacts, calendars and tasks to a different Android phone of choice (selection huge and growing, exploding).
Don't get me wrong, I loved my iPhone(s) while I had them and my kids will continue playing with them (as my dad with the iPad) but the times are changing and the above listed were my initial reasons for the switch. Soon I will summarize my first several days on Android and list my good and bad surprises.