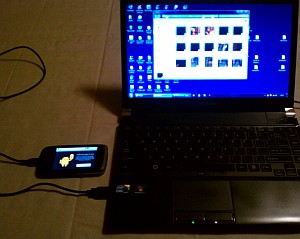 If you can't hear any sound on your Windows 7 computer when playing video clips recorded on your Android phone, you are not the only one. Videos recorded on our Android phones (HTC EVO 4G and LG Optimus S) would open in Windows Media Player, but there was only video without any audio (no sound). The affected video files have the .3gp extension and although this is a very widely accepted multimedia container format, Windows 7 apparently cripples the experience and out of the box plays them without any sound.
Why am I not surprised that Microsoft's Windows Media Player is currently impairing multimedia experience of most likely many millions of their users who have an Android phone? Isn't this adding more weight to the recent accusations of Microsoft antitrust abuse by Barnes & Noble? If Android videos would seamlessly work on Windows PCs like they do after fixing this problem, wouldn't that be one more victory of Android phones with their amazingly seamless and flexible way of operation? Am I the only one getting the strange idea that by having it work only half way it seems that something's wrong with the phone and that the phone is not recording audio? My wife indeed thought the problem was with her phone before I fixed it on Windows 7.
Since Android phones are huge competition and they are quickly taking over the market from any remaining Windows phones, wouldn't supporting their file formats give even more advantage to Android, which Microsoft has been trying to "compete" with, in cooperation with other big players in the low blow coalition, using legal bullying, lobbying and probably other ways you can think of while failing to make their own products perform better than Android? Perhaps bullying manufacturers into paying you royalties when they sell a competitor's product would be called racketeering in some other world, but not here.
Now that I'm done with the rant, let me get off my soapbox and back to the fix:
If you don't want to install the third party codec as described below, and particularly if you already have Apple QuickTime Player installed (usually gets installed with iTunes), it plays this format without problems even in older versions (just discovered this on my ancient Windows 2000 virtual machine). If this file format (.3gp) is still associated with Windows Media Player, you can change its association by right-clicking on one of these files, selecting "Open with", then "Choose default program" and select QuickTime Player and mark the check box in the bottom "Always use the selected program to open this kind of file". That's another easy fix. The original fix below is still good for those who don't want to install QuickTime and/or want to play these files in the default Windows Media Player:
Windows is missing a codec to properly decode and play the files with extension 3gp. I fixed this by downloading and installing the file below. For those of you who don't want any details, I got the file directly at this link:
http://www.filehippo.com/download_klite_codec_pack/.
I didn't install (unchecked) the player that comes with the installation because I prefer opening everything in Windows Media Player.
The name of this utility is is K-Lite Codec Pack 7.90 (Full). To find it and learn more about it and similar programs you can go to filehippo.com and search for "codec" (without quotes), or its name. However, I'm not sure the others will work, as the other codec file I downloaded and tested (Codec Pack All-In-1 6.0.3.0) didn't fix this problem.
Note: although some codecs can be possibly found and downloaded from download.com, this site has been adding bloatware into their downloads (sometimes eve reported as malware by antivirus), so I stopped using them some time ago.
As most of you know, once this or a similar fix is installed, you can either copy or play the movie files recorded on your Android phone when it's connected to your computer as a disk drive (turn on USB storage on the phone) with a USB cable. The videos are usually found in My Computer>Removable Disk>DCIM>Camera folder. If you have Google+ set up on your phone, it can be configured to upload the movies and pictures automatically in the background either when charging, when on WiFi, or any time, so you won't even need to connect to a computer.
Disclaimer: If you decide to follow my example, proceed at your own risk. In most cases I don't provide free technical support. The above mentioned fix currently seems to be a good working solution on our computers, but there are no guarantees that it will work on your system(s).
– – – – – – – –
If you find these notes helpful, you can tip me with a dollar or few using the "Tip Me" link on top.