Recently I ordered another extended battery and a charger for my HTC EVO from Amazon.com in a bundle with a card reader and a cover for under $9.
The battery in this set is exactly the same and lasts as long as another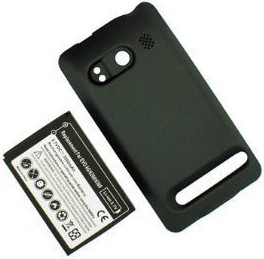 3500mAH extended battery I bought separately from another vendor for under $7. This set, however, also includes a wall charger and a white cover (the phone looks really funky with that cover so I'd wear it only if all my black covers broke). I bought this bundle because I wanted another 3500 mAH extended battery and a wall charger.
Pros:
– The charger works with both HTC EVO factory battery and the thicker extended 3500mAh batteries.
– The charger has a USB (power out) port on it so you can charge the phone as well.
– The LED on the charger changes color from pinkish red to blue once the battery is charged.
– The charging current is low (far less than 1A). This is good for the battery health if you're ready to give it enough time for a slow overnight charge.
Cons:
– The charging current is low (far less than 1A). This is bad if you want your battery charged ASAP.
– The charger doesn't seem to be strong enough to charge both the battery and the phone through its USB power at the same time.
This is was a good deal. Considering the price, it's awesome.