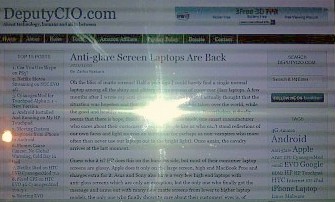 Oh, the bliss of matte screens! A year ago I could barely find a single normal laptop among all the shiny and glittery mess of consumer class computers. A few months after I wrote my anti-gloss rant post, I actually thought that the situation was hopeless and that the shiny, distractive screens have taken over the world, while the usable and healthy anti-glare screens were totally extinct. Nevertheless, it finally seems that there is hope, thanks to a new kid on the block, a smart manufacturer who cares about their customers' eyes, and people like us who can't stand reflections of our own faces and light sources on the screen (or perhaps us non-vampires who more often than never use our laptops out in the bright light). Once again, the cavalry arrives at the last moment.
Guess who it is? HP does this on the business side, but no, most of their consumer laptop screens are glossy. Apple does it only in your dreams (most of their screens look like mirrors), or only on the large screen, high end MacBook Pros and charges extra for it. Asus and Sony do have a very few high end laptops with anti-gloss screens, but they are mostly an exception to the rule. The only one who finally got the message and released a significant number of new laptop models with an anti-reflective screen, the only one who finally shows to care more about their customers' eyes instead of fashion is, of course, who else but the great Samsung!
I just spent some time at Best Buy, checking what's new in their offer when my jaw dropped and I started drooling. I couldn't believe my eyes, there was a number of fancy but affordable laptops with matte screens, and I want them all!. Who else, but Samsung. These guys are rocking the world and there is a reason – they're simply the best.
All this after they've just surpassed Apple in sales of smartphones worldwide . Their phones rock, their tablets are amazing and their laptops are the next first. Their Series 9 laptops not only have a great design that can withstand any competition, but it also has what most others lack – the matte screen. Besides the super expensive Z series from Sony which because of its price stands far from being a top choice (although someday I hope to be able to afford it without feeling bad about all the extra dinero flying away), this is THE laptop of choice for me as I'm getting tired of this Toshiba Portege, not only because of its weak keyboard (doesn't register all key presses, gets dirty) but also because of its glossy screen. My goodness what a blessing it would be to have a Sammy 9…
Back to my beloved matte screens and the facts of my revelation that almost made me call my mother with an olive branch in my mouth and tears of joy in my eyes, with violin playing in the background, to tell her that I see the light at the end of the tunnel and it's not an approaching train!
Joking aside, these new Samsung laptops at Best Buy are starting from their $250 netbook, then their $500 Core i3 Sandy Bridge 15.6″ laptop, their $930 higher end Core i7 15.6″ laptop, crowned with their $1200 series 9 13.3″ Core i5 laptop, all (!) equipped with matte screens.
UPDATE: I recently had a chance to play with and wrote about another budget level $380 addition to the Samsung's line of anti-glare screen notebooks, the Samsung NP300E5A-A03 Series 3 Laptop with Intel Pentium B950 CPU.
Thank you Sammy for feeding my hungry eyes! Now I wonder whether anybody will ever produce a high end smartphone with a non-reflective screen so that we can actually use it outside? DUH.
Good consumers, this is your chance to show your preference and appreciation for those appreciating your eyesight. Vote with your wallet. Buy laptops with matte screens. Don't let the careless glossy shiny glitters seduce you into the deceitful world of poor vision. Don't be sheepish. Buy quality products.