Chasing Amy? Finding Nemo? Rooting EVO? Last night I did the last one and loaded the CyanogenMod 7.0.3.1-Supersonic (stable) firmware on my HTC EVO 4G.
Update (late October 2011) – the latest version of CyanogenMod is now 7.1 but for its downloads and installation you can still use the same full update guide given below which gets updated with each new version.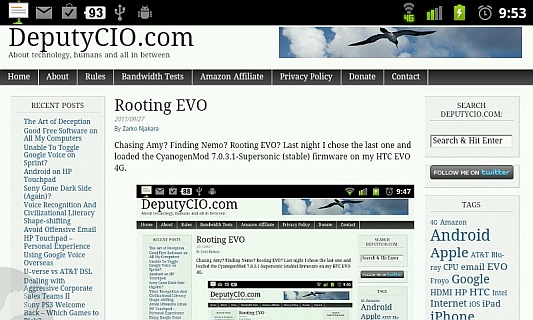 Let's first put up a little disclaimer and say that you shouldn't do this just because I've done it, although I've done it just because. These actions will void your warranty and if not done properly (or if you're out of luck) they may render your phone unusable, in other words "brick" it and make it the perfect candidate for the "He's dead, Jim!" phrase. Now that we've taken care of that, let's roll (in memory of UA93):
One reason why I chose the CyanogenMod was because of the disappointing news from my friend who decided to root his EVO a month or so ago, only to find out that although the get-off-my-property bloatware apps like Blockbuster and Nascar can be deleted, their space on the phone remains reserved and can't be reused by the system if you just root the phone and leave it as is. He did just that, because he didn't want to give up the otherwise great HTC Sense interface. On the other hand, I wanted genuine stuff, much closer to pure Google Android, just as I stated in the post about my rooting intentions. This mod seems to go there and then add some more things you'd already expect on Android. Another reason for choosing CyanogenMod was the great reputation they keep building up due to their recent progress with porting Android to HP Touchpad.
I don't think I made a mistake, in fact, my current experience with Cyanogen feels just right, and makes me want to read ZAMM all over again.
This new interface on a custom firmware feels like an entirely new phone and it's a great feeling because of all the various configurable options you can play with. iPhone is strict, Android is permissive, but CM flavor of Android is total freedom, the right stuff for the phones, pure Android, liberated of all manufacturer bloatware. This indeed was a very cheap (free) way to get myself into that magical mystery "new gadget in the house" feel (just to clarify, not even close to the "new baby in the house" feel, which makes you wonder what good on this Earth you've done to receive such grace… until all the crying and pooping sucks out any remaining "sleep molecules" out of you).
Back to the subject, I used this document as a guide:
http://wiki.cyanogenmod.com/wiki/HTC_Evo_4G:_Full_Update_Guide
The wiki post above doesn't list a few decision branches, so to clarify:
After revolution.exe set the S-OFF, it asked me whether I wanted to download the ClockworkMod recovery process. YES (I made sure there were no known reasons against it in the "Revolutionary" IRC channel, listed in the above wiki as well). I was happy to see that ClockworkMod among other things includes a backup and restore utility, so after that I booted into bootloader (hold power and volume down) and backed up the phone to its own microSD card. After this process was completed I booted up and copied the backup found at microsd root/ClockworkMod folder to my computer, just in case. Not that I cared much in this case because I wiped the phone to factory settings a week or so ago and didn't have much data on it anyway, but it helps to build a good know-how habit.
I chose to stay away from the experimental RC versions and download the last stable firmware image for HTC EVO 4G, currently (September 2011) 7.0.3.1-Supersonic (stable version 7.1 was released in October 2011), because I wasted a lot of time in my past messing with RC and beta versions (here's one example with open source firmware for a DSL router).
The second executive moment arrived when I was supposed to put the zip files of the firmware image and Google applications in the root of the microSD card. We are all our own worst self-censors: I was somehow scared to boot up the phone once it had the new unlocked Revolution bootload, almost like I've done something illegal (definitely NOT the case). Well, Mr. Duh, the IT Exective in me, just had to boot up the phone, connect it to my PC as a disk drive and copy the zip files to the root of the volume. Everything else was a smooth ride, and oh the joy of setting up the remodeled phone!
My impressions, so far (I will keep updating this post as the time progresses):
Pros:
Email App
Unlike with HTC Sense, I finally gained the unified mailbox in the standard Android mail app. I used to use K-9 in my EVO's previous life to get this feature but I ditched it and switched back to regular HTC Sense mail app because K-9 was a bit buggy for my standards and it messed up my Gmail folders and my entire Gmail experience even on the desktop (before K-9 I didn't have numerous Sent and Draft folders). The default email app I'm using now looks identical to the one on my wife's LG Optimus S, and I always envied her on that unified inbox. HTC Sense app has some advanced custom settings for every account (high and low activity hours for different update frequency) but I suppose I can do this on the system level.
Sounds & Alerts
Configuration of sounds and alerts is amazing – I can configure (and I did) a different notification sound for each of five email accounts that I keep checking on my phone. This is awesome.
Notification Power Widget Awe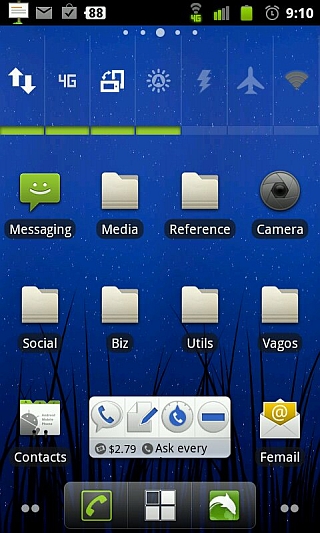 So many options, and I just squeezed in some of my favorites. Had I seen this when I was on HTC Sense I'd have drooled uncontrollably. But the more customizable Power Control widget can now be replaced with something even better, the status bar power toggles, which give you control over many different options directly from the status bar when you swipe it down without leaving the app you're currently in. You can set up the toggles you want to have just like in the Power Control widget, and you can even rearrange the buttons order very easily under Settings>CyanogenMod settings>Interface>Notification power widget>Widget buttons (and Widget button order). Moreover, this tweak allows for all possible toggles to be added (Power Control widget had a limit of ten) and if you have more than six of them, you just have to swipe left and right to get to the option you need, so I got rid of the Power Control widget that I used to like so much (on the pic).
Screen Shot
Version 7.1 finally has the screenshot option – you can take it by holding the power button for a second or two and then selecting the screenshot option. It's not instant as on the iPhone, but it's much better than nothing what was the case so far. If you don't like this option, a free app from Android market (Screenshot by Kastor Soft) can take a screenshot when you shake the phone or after a specified interval, when enabled.
Second Status LED
I didn't know that EVO has two LEDs symmetrically on each side of the earphone speaker. This is the first time ever I see the second one active. I wouldn't be surprised I can configure the heck out of both.
Built-in HotSpot
There's no need to download any apps to tether or fire up a hotspot – everything is already built into the firmware. The only problem with using this feature is that it may breach your contract with Sprint if you're not paying the regular $30 monthly hotspot fee, so I tend to stay away from using it.
Cons:
– I can't get the camera to work in Skype. I get the option to use either back or front camera, but so far that doesn't produce any video. The application acts buggy – few times it asked me to update by reinstalling and when I selected yes, it only uninstalled and that was it. Also once while I was changing cameras and enabling and disabling video back and forth the phone went into a spontaneous self-combustion. Kidding. It just rebooted.
– The other handicap is that I miss the HTC Sense keyboard, but I usually use speech recognition and dictate my text into the application.
– Still no native screenshot?
– Some reviewers mention that the photo camera software is not working that great, but I didn't have any bad experiences.
– I had a problem with GPS not working, which I fixed my own way after reading some posts on the CyanogenMod forums. This doesn't seems to happen a lot but it did happen to some users (not sure whether it happened to me because I left the phone in the Airplane mode before rooting, so my recommendation is to root and flash it with everything turned on), so again, rooting and flashing EVO with CM7 is not for the faint of heart..
This makes my EVO feel almost like a new phone. There's a lot of good and a few not so good things, so I like it a lot. I've never seen so many configurable options on a phone in my life. Ultimate techie goodness. I will keep updating this post as I keep learning and experiencing more of the CyanogenMod on my HTC EVO 4G.