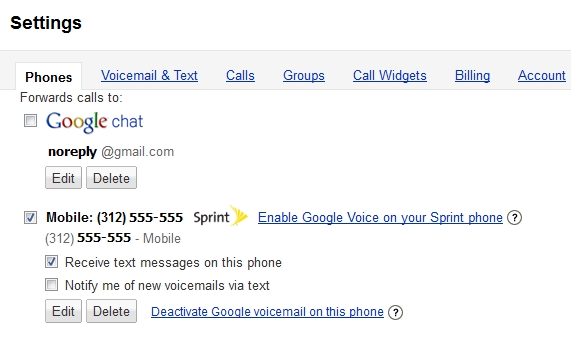 Google Voice worked well overseas, but it just gave me some problems at home after I wiped my EVO 4G to factory settings and started fresh due to the excessive amount of clutter I collected by testing so many apps. During the reinstallation process I had a "managerial moment" (as some of my fellow network engineers I ended up supervising used to tease me whenever I couldn't get something to work right away).
Google Voice was among the first apps I installed, but after installation I couldn't toggle the three usual options: use for all calls, international only, do not use. The new Google Voice settings widget had the option grayed-out and it was stuck on "all calls". I signed out of Google Voice applet, then signed back in and nothing changed. Then I unistalled and reinstalled and reconfigured the app to no result. Finally I also discovered that even without Google Voice app installed I couldn't call from my regular cell phone number – the caller ID on the phones I called was always showing my Google Voice number and I was getting "Who is this?" answer from some of my friends and family.
I started to panic, thinking I mistakenly opted in for the (otherwise great) Sprint Google Voice integration and selected to replace my Sprint number with Google Voice. I use and need both, one for family and friends and the other for business calls. However, the Sprint tech support could still see both numbers and they told me to try to resolve the problem from my Google Voice settings on the web. That worked – after disabling forwarding and removing the phone from Google Voice I was able to install the app and configure it properly.
I'm not really sure I selected anything wrong. If I did, the things don't look too clear for end users (even for a techie like me) and the questions and options are either confusing or Google Voice "doesn't like" being reinstalled on the wiped (or new) cell phone with same mobile number without first removing the phone from Google Voice settings on the web.
But wait, this was not all. It took me few days to realize that calls to my Google Voice number were not even ringing on my phone so I had to re-enable forwarding of Google Voice calls to my Sprint number again on my Google Voice settings web page.
Then after that, when selecting "call using Google Voice" the caller ID was still showing my Sprint number. I toggled it one more time and then it started with its normal behavior. UGH!
I don't know whether this was just a glitch on my phone or a glitch on Google Voice, but be careful if you're reinstalling your smartphone from scratch and/or Google Voice on it. As always, if it's mission-critical as phone calls may be, don't believe it without seeing it – test it instead with all the different options you use regularly.