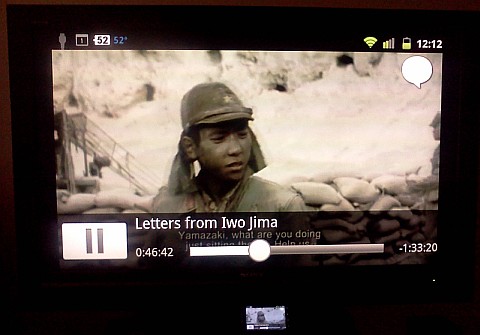 (Above: My 46″ TV and my EVO below it, connected and streaming)
Netflix has been working on HTC EVO 4G since May 12, 2011 and I have been watching movies and TV shows when on cardio devices in the gym with better results on a bigger screen and no slow download or pixelated and blurry scenes as on my AT&T iPhone.  It also works very well on 3G where 4G signal is not available, but how can you stream it to TV over HDMI?
Netflix over HDMI Not Working On Unrooted Phone
Unfortunately, when my EVO 4G in its default factory config was connected to a big TV with an HDMI cable, Netflix video was visible only on the phone while only the sound can be heard from the TV speakers. New Netflix app update installed on May 27, 2011 didn't fix video out, but instead redirected sound that was going to HDMI back to the phone so both video and audio were displayed only on the phone. This shouldn't be too hard to fix. Team Coco (Conan O'Brien) video clips from their Android app look nice on the big screen TV in 720p and so do YouTube HD clips. I was hoping that Netflix will allow video out on HDMI on HTC EVO 4G soon, but doubt it will happen because it seems they are blocking it due to strict DRM rules. This is still the case as of February 14, 2012. However, there's a workaround, not easy but rewarding.
Netflix over HDMI Works on My EVO with CyanogenMod
After installing custom CyanogenMod firmware on my EVO (what also roots the phone and gives it a brand new, plain Android interface feel, removing Nascar, Blockbuster and other Sprint clutter), I was able to watch Netflix on my TV using the micro HDMI cable, but first I had to download HDMwIn from Android Market, the free HDMI mirroring app made for rooted HTC EVO only. Initially it didn't transfer audio until I found an option in settings to send it to the TV as well. According to its documentation, this app works on rooted versions prior to 2.3.3 (update from this Summer) and according to my tests it worked just fine on my CyanogenMod ROM versions 7.0.3.1 and 7.1. Not that I will use this feature much because I watch Netflix via my PS3 which is directly connected to my TV, but this may be good to have when vacationing in a place with a HDMI HDTV (don't forget the cable!) and a strong Sprint network signal. I also see in my website's stats that a number of my visitors come here looking for this option so I tested it for you. You're welcome :-).
– – – – – – – – – – – – – –
If you find these notes helpful, tip me with a dollar or few using the donate link on top.
If you're using a CyanogenMod ROM port, also consider donating to the CyanogenMod team from their website at http://cyanogenmod.com.