UPDATE: After one year I discovered some hidden flaws of this laptop and I wouldn't buy it again unless Toshiba improved the very fragile chiclet keyboard that is also very sensitive to small amounts of dust, and a questionable picture quality webcam that died after a year.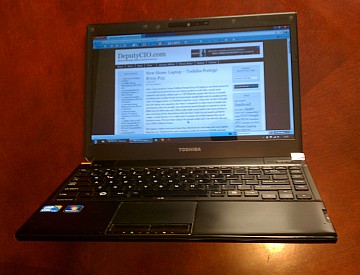 After a long research I chose Toshiba Portege R705-P25 laptop as my final answer for a very light but powerful home unit. Being spoiled at work with a much more expensive and sturdy military spec 12″ HP Elitebook 2540p with Core i7, I wanted something that wouldn't break my home bank, equally light and of a similar power, with a bit bigger screen, so I decided to look for a 13.3″ screen size. At first I thought that this laptop was expensive, but when I compared it to other units of similar size and features, this was actually very attractively priced (bought on special at a local M&B store for $800 plus tax). What really made me go back to the store and buy it after reviewing all the alternatives is the fact that I had it in my hands and felt its weight, or lack thereof. It is so light that it reminds me of fake laptops they use at furniture stores. We have been using it for several weeks and I can tell why this one won CNET's Editor's Choice.
This laptop is lighter and much faster than Macbook Air and faster and much lighter than the 13.3″ Macbook Pro, not to mention double the amount of RAM and hard drive capacity. At 3.2 lbs, this is the second lightest 13.3″ laptop, still with full blown 32 nanometers Intel Arrandale Core i3 CPU with built in graphics and 5-8 hrs of battery life… It has similar capacity and speed but longer battery life than the barely lighter 3 lbs Sony VAIO of same size, but you will pay more than double for the Sony. The spanking new Intel Wireless Display technology is also a good perk, but be aware that you need the receiver on the other end (I believe you can get Netgear's device for under $100) or one of the brand new and expensive TVs that have this feature built in.
Many other laptops have an incomplete 802.11 b/g/n wireless network card, thus lacking the capability to connect to a 5 GHz WiFi a/n access point. This one has a fully compliant 802.11 a/b/g/n WiFi NIC and this is important to me because of the interference I'm getting from hundreds of access points in our building (I see over 40 from my condo), so I'm able to happily utilize the 5 GHz a/n radio on my dual band WiFi router, while everybody else is struggling with great interference on the few available 2.4 GHz b/g/n channels.
Long battery life is somehow achieved without using the slower ultra-low voltage CPU. The sticker at the store claims eight hours. I say maybe you'll get that when you're not doing anything processor-intensive and while using Toshiba's Eco power setting, which slows down the system a bit, but even on the normal balanced power settings and bright screen we still get five-ish hours, depending on the activity. Charging the battery while the system is working seems to take longer than on my 12″ HP Elitebook 2540p work laptop. I can't figure out why, because this machine has the equal number of battery cells (6) and equally powerful 65W AC supply. Did Toshiba achieve a better battery capacity at same number of cells and weight and is that why this unit's battery lasts longer than on most similar laptops of other manufacturers? Still, the 12″ HP 2540p has similar battery life, but charges much quicker (smaller screen?).
About Core i3 vs Core i5 and i7 – humans can barely notice a 20% performance improvement on a computer. Core i5 and i7 CPUs do provide a bit higher speed particularly at turbo boost, but turbo works ONLY when another core is not busy, and at that time the single core is working at only up to 25% faster. I decided to stay at Core i3 and not be taxed the significant amount for the marginal benefit on a home laptop. According to my experience throughout the years, about 10% under the performance mountain top lies the treasure cave with best bargain systems that are still powerful enough to keep you zipping through the next 3-5 years without any disadvantage or impairment. Of course, if you're a gamer, you may be willing to go for 100% or so higher price for that 10-25% increase in speed, but that definitely doesn't apply to a home laptop. However, if you really want to see the biggest return on upgrade investment, instead of upgrading to i5 or i7 CPU eliminate the biggest bottleneck and upgrade the hard disk to a solid state HDD. That alone is the biggest performance boost you can give to your laptop and I might do the same soon because I've seen SSD drives do miracles.
Although very light and thin, this thing still has a DVD burner. Blu-ray would be a great plus, but you benefit from Blu-ray movies when watching them on a 1080p big screen (40″ or more) HDTV, which usually already has a dedicated Blu-ray player or PS3 connected to it. This 13.3″ screen, although at 720p HD, is too small to experience the full benefit of the Blu-ray movies. If you really want the high definition movies and the higher data capacity of the BD technology, this may be a deal breaker and you may go with one of the 14″ Samsungs or lower end Sonys at a similar price. I wonder if an upgrade to Blu-ray could be purchased from Toshiba, but considering their loss during the format war between Blu-ray and HD DVD, I understand their lag with this feature.
Specs:
CPU: Intel Core i3-350M @ 2.27 GHz
4 GB RAM
500 GB HDD
DVD/CD writer
Ports: HDMI, 3 USB 2.0 ports (one combined with eSata & "Sleep and Charge"), SD Card,
Intel Wi-Di (wireless HDTV HDMI connection)
802.11 a/b/g/n WiFi
3.2 lbs (1.45 kg)
Pros:
– Very light, but still sturdy with a robust hinge
– Much faster than most other ultraportables of this size and weight
– Fully equipped like much bigger and heavier laptops, plethora of ports, DVD/CD writer
– Windows Home Premium 64 bit w/ 4 GB RAM, upgradeable to 8
– Brushed metal magnesium alloy chassis with good cooling
– It gets totally cool if you put it to sleep for 1-2 minutes, even after hours of work
– Intel WiDi
– One USB port (the one combined with eSATA) provides power even when the laptop is shut off
Cons:
– After two months I'm still not entirely used to this keyboard. It's not as good as on HP business laptops or Thinkpads. This is the weakest link of this machine. After months of use (update) the space key doesn't work all the time under my right thumb (warranty test is about to be checked as well, so stay tuned), and some other keys sometimes don't work without a harder press. I often need to use compressed air to dust it off because the keys and the contact mechanism under them is exposed more than on other keyboards.
– No keyboard backlight or LED
– Instead of being in the center, the touchpad is slightly moved to the left. This is causing occasional sudden and unintentional moves of my cursor to a different position whenever my palm touches the touchpad.
– Some reviewers have complained about the fan noise – under normal load I can only hear it at night when it's absolutely calm and quiet, but it's not loud enough to bother me. If you're in your 20s the high pitch sound coming from the fan may bother you, but at 45 I can barely hear it as it's virtually ultrasound. But now about work under heavy loads:
– I noticed recently that the system can get significantly louder and warmer (not lap-comfortable without a lapdesk) when the CPU/GPU is heavily taxed as in Google Earth flight simulator mode with 3D landscapes and objects enabled and set to max. This also happens when I'm viewing HD Flash video on it.
All in all, this is the winner. Not perfect, but darn close to it, considering its cost, weight, size, power and features. Recently I've seen this unit priced at about $1,100 which is $300 more than what I paid for it. At that price I'd think twice, particularly when a faster unit of this series, P41 with faster Core i5 CPUs can be bought for under $1,000, but if you can get the P25 for $800 like I was able to, it's a no brainer. Go for it.
Here are both so you can compare prices (remember that the P41 has a faster Core i5 CPU and I don't understand why it's cheaper, but as long as it is, go for that one)
Please note that I didn't plagiarize this review from Amazon.com because it's my own – I post there under name DrZ.