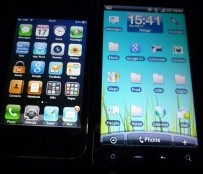 This is what I do to move my custom iPhone ringtones and the ones created from voice memos from iPhone/iTunes to my HTC EVO Android phone:
1. Connect the phone to the computer as a disk drive
2. Make sure these three folders existed in the root of the connected Android phone disk drive/microSD card (creating the ones that were not there):
\MediaAudioRingtones
3. Open location where custom iPhone ringtones reside on local HDD (or search for files with extension .m4r)
4. Select the files to migrate, then copy them to the above mentioned Ringtones folder (directory) on the microSD card.
5. (Crucial) Rename the file extension of the copied ringtones from .m4r to .m4a
6. After disconnecting the phone from the computer they will appear on the ringtones list. It's that easy!
It seems from my attempts that Android (at least HTC EVO on Android 2.2) can't play m4r ringtones, but it definitely works with m4a and mp3 files. Moreover, this can be done only if you have some custom ringtones on your iPhone/iTunes. In case you do have them and can't find them, you may have to make known file extensions visible, which can be configured in Folder Options – View tab – remove the checkmark from "Hide extensions for known file types" check box. Don't do this if you are not sure what you are doing, because you may do some damage.
Disclaimer: I'm not suggesting that you use and move any copyrighted music files you don't own. Be nice, folow the rules and enjoy yourself. I'm also not saying you should do what I've done, just as I hope you wouldn't follow my example if I jumped off a bridge. This is only to show it is possible and to give ideas to those who are technically inclined and not the faint of heart.
If you find these notes helpful, tip me! Give me a dollar or few.